Brand Identity Bootcamp
In this 6-week course, we guide you through uncovering the power of your brand strategy and harnessing it to create a full brand identity that is true to the company's values and connects to their ideal client and customer. Replays & Video Course Material Next Kick-Off
January 25, 2023
6 Wednesdays
9:00 am – 12:00 pm (CST)
100% Funding available!
Learn our proven process and
charge a premium price.
When you know how to create an effective brand, your revenue increases, your client's revenue increases and your skills become more valuable.
Branding is the core of how every business can connect with its customers or clients. When this is done well, the results can be astounding. Some of our previous clients have even 10x their business within the first year of launching their new brand.
Creating your client's brand with the Zap Branding Method™ will help their business grow and amplify any marketing services you run for them. It's a win-win!
In-house Graphic Designers
Are you working in-house for a company that is looking to rebrand? This course will equip you to handle the rebrand in-house, saving the cost of hiring an external agency. If your company chooses, we can be there to review and consult you every step of the way.
Agency Graphic Designers
Are you a graphic designer in an agency that has done branding before, but the agency doesn't have a process for branding and you know you could be doing so much more to help the client and create an amazing end product?
Freelance graphic designers
Are you a freelance graphic designer looking to specialize in brand identity for clients?
This is an incredibly valuable offering for your clients you can sell for a premium price.
What you will learn in Brand Identity Bootcamp
01
Branding Process
The process of creating a strong brand identity and seamlessly working together with your client.
02
Moodboard & Pitch
How to create mood boards to influence your client's decisions, propose definitive directions and gain buy-in to efficiently move the project forward.
03
Colour Palette, Patterns & Fonts
Designing a look and feel that reflects the strategy with complementary colours, patterns, and fonts.
04
Logo Design
How to take inspiration from other sources and create a unique logo that is attractive to the target audience.
05
Brand Guide
Putting all the pieces together to equip your client with a definitive guide to use their brand effectively to build awareness and trust.
06
B
rand Sales Presentation
How to sell branding as a whole by creating a presentation that explains how branding is an integral piece to helping your client's business grow.
What will Brand Identity Bootcamp do for my business?
Increase revenue by offering a premium value service to your clients
Improve your client's marketing efforts by creating a brand for them that connects with their audience.
Seamlessly lead your clients through the branding process from discovery call to brand launch
Avoid endless rounds of revisions by learning how to get buy-in early so you can efficiently move the project forward.
Our secrets are coming out of the vault!
Learn our proven process on how we've successfully branded over 40 businesses.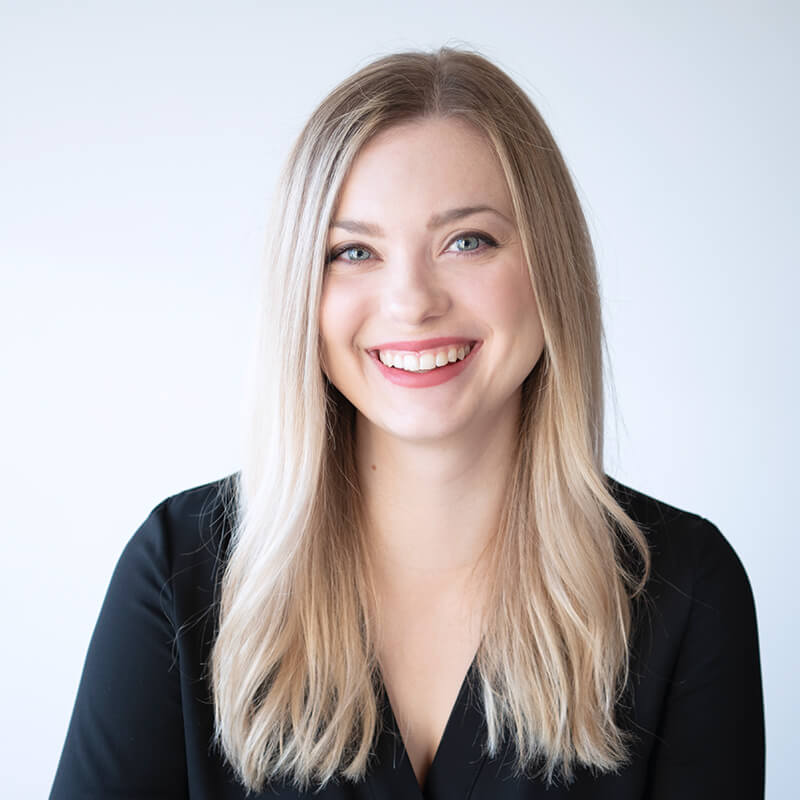 Hannah Wheeler
Co-founder & Brand Strategist
Hannah is a co-founder and the Brand Strategist of Zap Branding. With a Bachelor's Degree in Graphic Design, her experience in the field and talent are showcased through the powerful brand identities and interactive designs she creates. Hannah is skilled at developing strong brands by encapsulating an organization's core values and personality. She flourishes by identifying new opportunities for continuous growth and strategically executes them with intent. Hannah is passionate about working closely with clients and helping them achieve their goals.
Earn a Brand Identity Bootcamp Certificate
Upon completing this course, you'll receive a professional certificate to share with your network and showcase all that you've learned.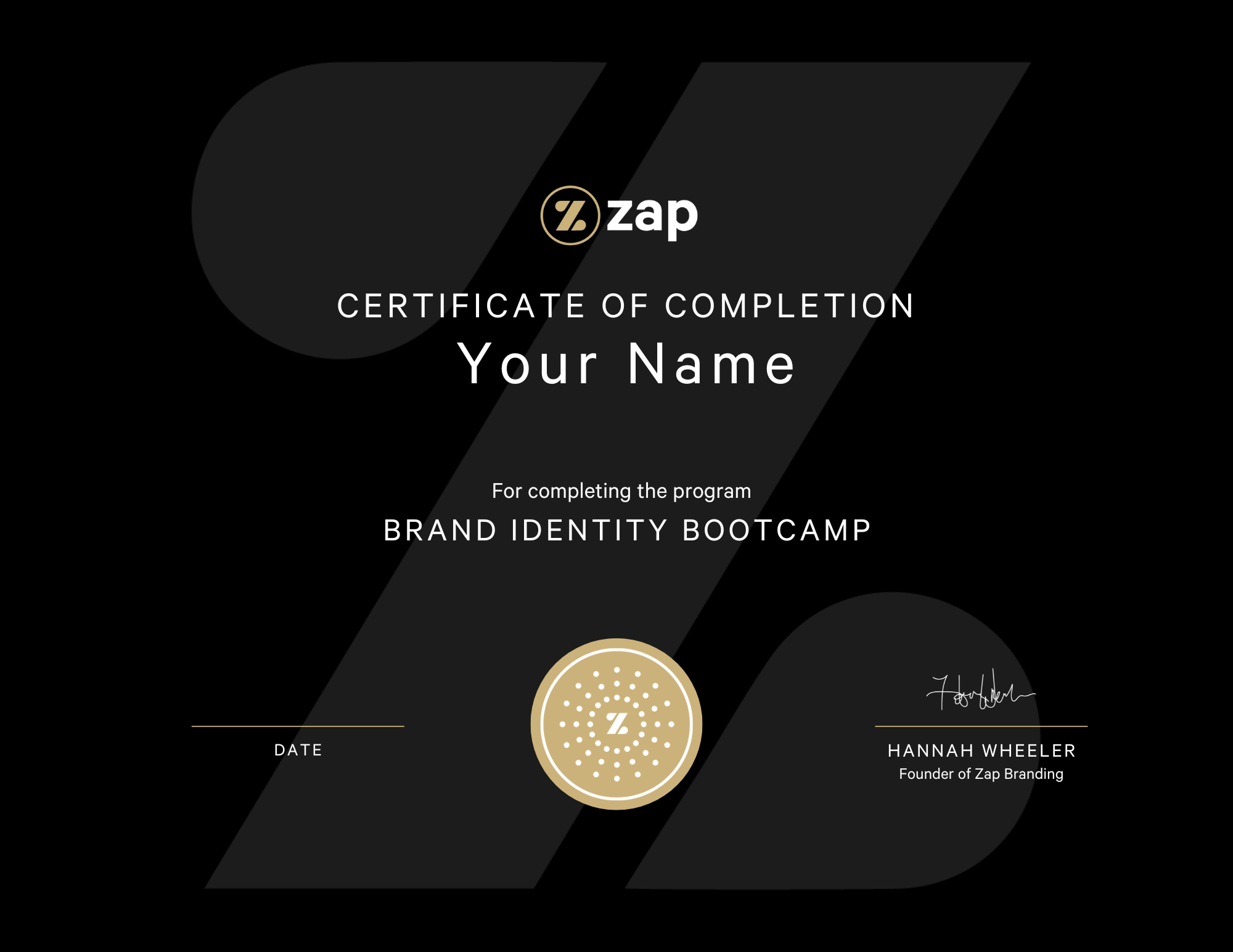 What our clients have to say:
Immense Value
★★★★★
"We participated in Zap's marketing bootcamp and have received immense value in terms of strategies and methods to communicate with our audience and build our brand. Thanks Zap team!"
Colin E.
Owner, Keystone Outdoor Living
Highly Recommend
★★★★★
"I had the opportunity to participate in the marketing boot camp offered from Zap Creative. Zap Creative worked with me to brand our chiropractic office social media! I was able to learn new marketing tips and new programs. After I was finished the Bootcamp I still have monthly check-ins with them. They helped me out when I had questions and stuck on what to do next. I would highly recommend Zap creative!"
Nicole P.
Pawlovich Chiropractic
It was awesome!
★★★★★
"Love working with Zap. They are full of great ideas and always there to help. We did the Marketing boot camp and it was awesome!"
Chet A.
Operations Manager, International Furniture Wholesalers
Amazing Experience
★★★★★
"It was such an amazing experience working with Zap. I am way beyond thrilled to give a 100/10 kinda rating with the services and expertise our new business venture has received during the branding and content development process. It is an "all in one" package when you work with the team. Hannah Wheeler and the team made sure to carry out our company vision in the creation of the logo and branding and so much respect and support to what we are trying to achieve authentically. Totally love the process and cannot wait to work on another project with you guys!"
Emily Y.
Owner, Provisions Market
Blew me away
★★★★★
"The team I worked with at Zap Creative is top notch! Through a rebrand and website development everyone I worked with is knowledgeable, easy to talk to, responsive to my many questions and patient with my limited experience with. I had an idea of what my new brand and website would look like and they blew me away with what they came up with. I couldn't have done what they did on my own and the comments that I get on how the brand and website look are all positive! I would highly recommend Hannah and DJ to make your business stand out among the rest."
Patrick H.
Owner, Move~Mint Therapies
Could not recommend more!
★★★★★
"Had the pleasure of working with the Zap Creative Team on rebranding my small business! Giles and Abby were amazing and was always available to talk things over! I am so happy with what they came up with! Could not recommend more!"
Danielle G.
Owner, Busy Ferns
Professional, helpful and caring
★★★★★
"We attended their marketing boot camp and it is a must for every small business. As they teach how to run a marketing campaign for a small business. Their professional, helpful and caring as they taught us and continue to help is why I would recommend them to anyone looking to enhance their business."
Kent P.
PGI Printers
Highly recommend
★★★★★
"The team at Zap Creative is amazing. They are professional, creative, supportive, and developed a beautiful brand for us. I would highly recommend Hannah and her team."
Corinne C.
CEO, Terra Supra Skin Care
Number of Classes: 6
Class times: Wednesdays
9:00 am – 12:00 pm (CST)
| First class |   | Last Class | Enroll | Availability |
| --- | --- | --- | --- | --- |
| January 25 | → | March 1 | Enroll Now | |
| March 15 | → | April 19 | Enroll Now | |
Not available for these dates? Reach out here!
Let's get started!
You could be eligible to have the course cost 100% subsidized.
Request the Brochure for next steps and enrollment information!
Request the Brand Identity Bootcamp™ Brochure