Sales Strategy Bootcamp
In this 6-week program, we guide you through uncovering the power of your brand and harnessing it to build relationships with your ideal client or customer. Then, refine your buyer journey to create an environment where your prospects want to buy. Replays & Video Course Material Next Kick-Off
January 27, 2023
6 Fridays
9:00 am – 11:00 am (CST)
100% Funding available!
This course is perfect if you:
• Do not know what makes you unique in the market or how to highlight it to your prospects
• Don't understand how to utilize your brand to sell your product or service
• Are not using a CRM to manage your prospects and clients
• Are a salesperson wanting easier and faster ways to sell your product or service
• Are a business owner wanting to generate more revenue and more ideal clients
Entrepreneurs & Business Owners
We understand, there is way too much to do in a day, how can you possibly tackle sales too? In this course, you will come away with a clear strategy on how to jump into sales and use your time efficiently to win more business.
Sales People
Is golf season your only lead season? Are you afraid to try something new? In this course, you will learn key strategies on how to generate more leads and close more sales, all while organizing your CRM to always stay ahead of the game.
What you will learn in Sales Strategy Bootcamp
01
Sales Mindset & Brand Alignment
Helping you find the core message in the brand you sell and discover the most effective way to sell your product or service.
02
Sales System
Learn how to efficiently use a CRM to track your leads and conversations.
03
Sales Strategy: Audiences
Defining your audience and understanding how to reach them faster.
04
Sales Strategy: Offerings
Creating your offer stack to be seamless and to understand truly what you are selling and why someone would need what you're selling.
05
Sales Strategy: Streams & Lead Generation
Learn how to create effective lead magnets to attract your ideal client or customer.
06
Sales Strategy: The Meeting & Follow Up
Learn key checkpoints to reach during your sales meetings, and when and how to follow up to improve your close rate.
What will Sales Strategy Bootcamp™ do for my business?
Align your sales process with your brand to ensure the first interaction with your potential new client starts the relationship off on the right foot
Create a clear picture of who your ideal client is, where to find them, and how to effectively communicate with them
Come away with a clear understanding of how to efficiently manage and organize your CRM
Save time, increase confidence, and grow revenue with your revitalized sales process
Taught by Experienced Industry Experts
Learn from industry-leading branding agency owners to help position your business for growth. Teaching practical and relevant sales strategies that they experience daily.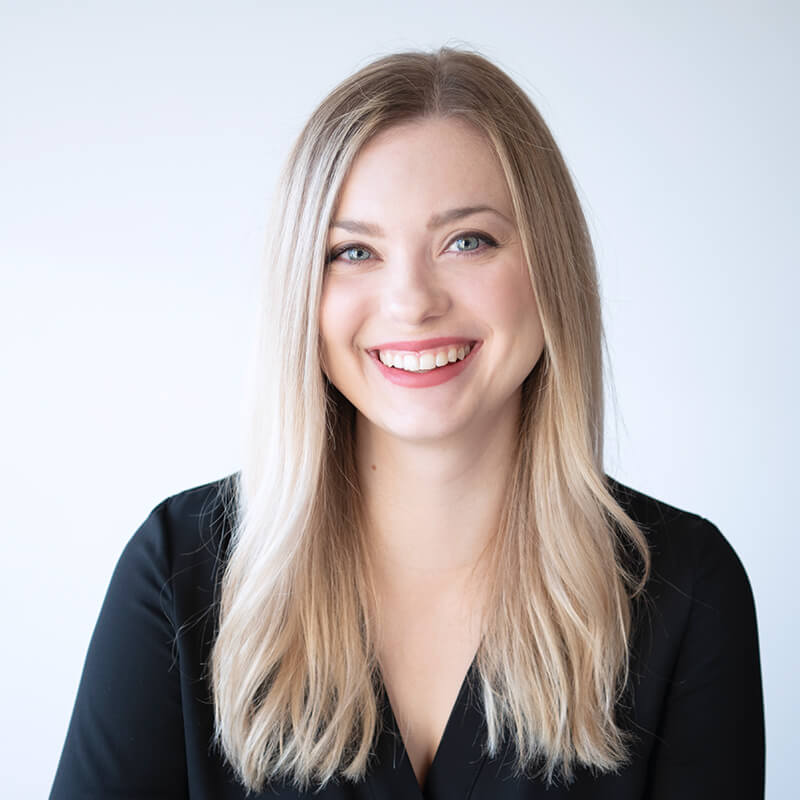 Hannah Wheeler
Co-founder & Brand Strategist
Bio
Hannah is a co-founder and the Creative Director of Zap Creative. With a Bachelor's Degree in Graphic Design, her experience in the field and talent are showcased through the powerful brand identities and interactive designs she creates. Hannah is skilled at developing strong brands by encapsulating an organization's core values and personality. She flourishes by identifying new opportunities for continuous growth and strategically executes them with intent. Hannah is passionate about working closely with clients and helping them achieve their goals.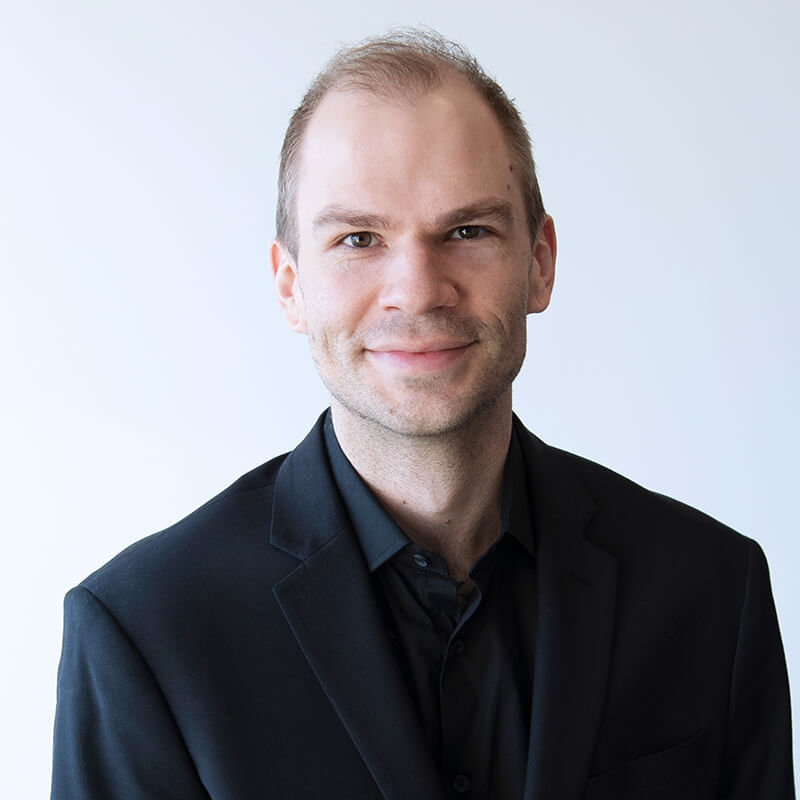 DJ Wheeler
Co-founder & Implementation Specialist
Bio
DJ is a co-founder and the Implementation Specialist of Zap Creative. He is an innovative problem solver and creative thinker. DJ is meticulous and thorough in his work, ensuring that all website processes and touchpoints work together seamlessly. He is skilled at developing responsive websites that perform and strategically reflect each brand. DJ excels at developing and implementing high-quality web capabilities that drive traffic and results to our client's websites.
Earn a Sales Strategy Bootcamp Certificate
Upon completing this course, you'll receive a professional certificate to share with your network and showcase all that you've learned.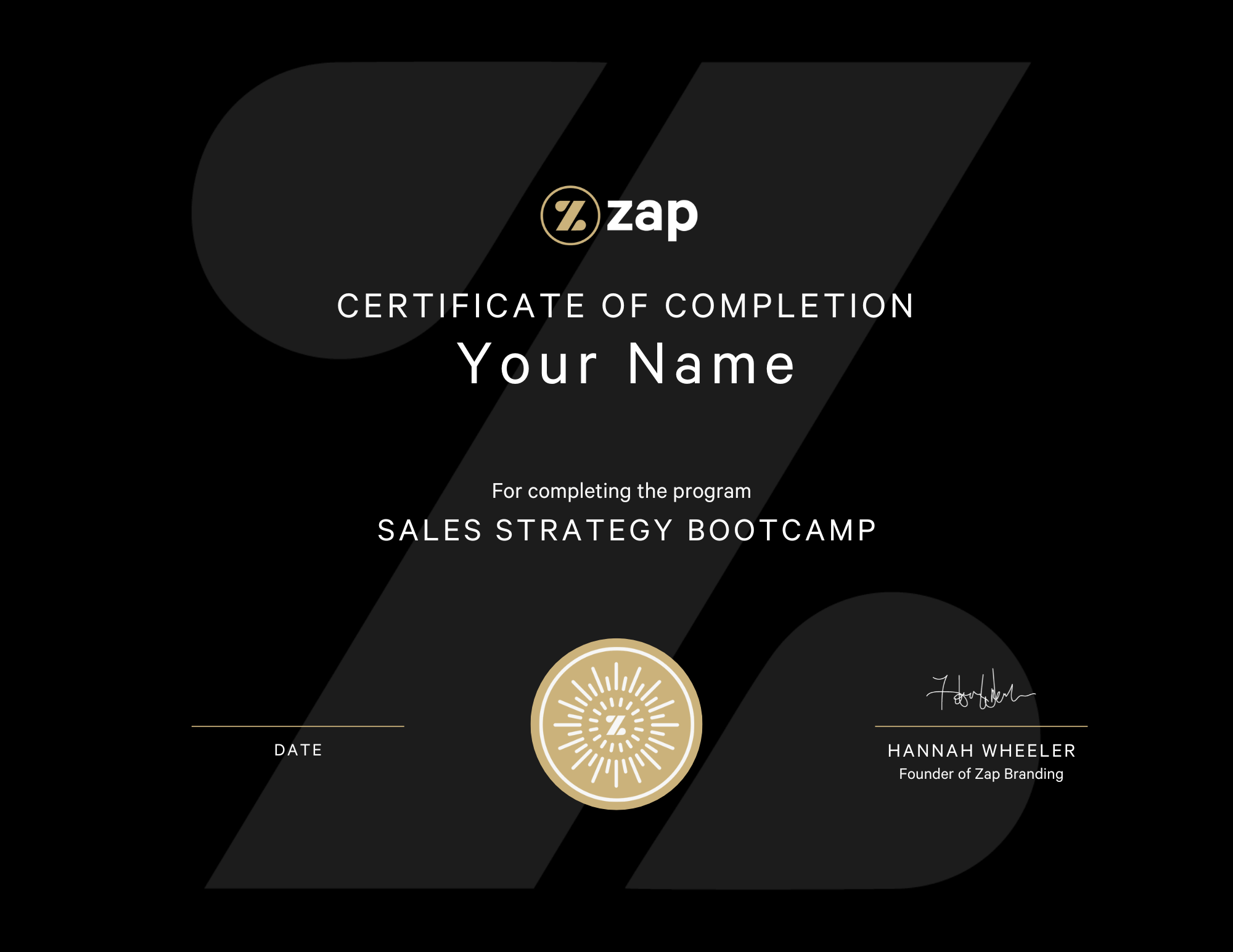 What our clients have to say:
Immense Value
★★★★★
"We participated in Zap's marketing bootcamp and have received immense value in terms of strategies and methods to communicate with our audience and build our brand. Thanks Zap team!"
Colin E.
Owner, Keystone Outdoor Living
Highly Recommend
★★★★★
"I had the opportunity to participate in the marketing boot camp offered from Zap Creative. Zap Creative worked with me to brand our chiropractic office social media! I was able to learn new marketing tips and new programs. After I was finished the Bootcamp I still have monthly check-ins with them. They helped me out when I had questions and stuck on what to do next. I would highly recommend Zap creative!"
Nicole P.
Pawlovich Chiropractic
It was awesome!
★★★★★
"Love working with Zap. They are full of great ideas and always there to help. We did the Marketing boot camp and it was awesome!"
Chet A.
Operations Manager, International Furniture Wholesalers
Amazing Experience
★★★★★
"It was such an amazing experience working with Zap. I am way beyond thrilled to give a 100/10 kinda rating with the services and expertise our new business venture has received during the branding and content development process. It is an "all in one" package when you work with the team. Hannah Wheeler and the team made sure to carry out our company vision in the creation of the logo and branding and so much respect and support to what we are trying to achieve authentically. Totally love the process and cannot wait to work on another project with you guys!"
Emily Y.
Owner, Provisions Market
Blew me away
★★★★★
"The team I worked with at Zap Creative is top notch! Through a rebrand and website development everyone I worked with is knowledgeable, easy to talk to, responsive to my many questions and patient with my limited experience with. I had an idea of what my new brand and website would look like and they blew me away with what they came up with. I couldn't have done what they did on my own and the comments that I get on how the brand and website look are all positive! I would highly recommend Hannah and DJ to make your business stand out among the rest."
Patrick H.
Owner, Move~Mint Therapies
Could not recommend more!
★★★★★
"Had the pleasure of working with the Zap Creative Team on rebranding my small business! Giles and Abby were amazing and was always available to talk things over! I am so happy with what they came up with! Could not recommend more!"
Danielle G.
Owner, Busy Ferns
Professional, helpful and caring
★★★★★
"We attended their marketing boot camp and it is a must for every small business. As they teach how to run a marketing campaign for a small business. Their professional, helpful and caring as they taught us and continue to help is why I would recommend them to anyone looking to enhance their business."
Kent P.
PGI Printers
Highly recommend
★★★★★
"The team at Zap Creative is amazing. They are professional, creative, supportive, and developed a beautiful brand for us. I would highly recommend Hannah and her team."
Corinne C.
CEO, Terra Supra Skin Care
Number of Classes: 6
Class times: Tuesdays
9:00 am – 12:00 pm (CST)
| First class |   | Last Class | Enroll | Availability |
| --- | --- | --- | --- | --- |
| January 27 | → | March 3 | Enroll Now | |
| March 17 | → | April 21 | Enroll Now | |
Not available for these dates? Reach out here!
Let's get started!
You could be eligible to have the course cost 100% subsidized.
Request the Brochure for next steps and enrollment information!
Request the Sales Strategy Bootcamp™ Brochure